Project managers have the responsibility of ensuring that the work environment is safe from any accidents and danger. A safe workplace allows the construction workers to work comfortably without worrying about their safety. With a proactive approach, potential hazards can be addressed before they become a serious matter. That's why it's ideal to have everyone in the workforce involved in workplace safety plans. This would increase the chances of a safe and productive environment for everyone.
Here are the top tips that would allow construction managers to take a proactive approach to job safety:
Tip 1: Risk Assessment Is a Must
At a construction site, construction managers should ensure that a risk assessment is regularly performed within the area– this helps them to determine if there are any potential hazards, and what should be done to protect the workers against them. The health and safety concerns should be one of the main focuses during risk assessment because there might be risks that were not monitored before. For example, there might be some issues with the electrical equipment, and this should be handled right away. Electrocution is one of the leading causes of construction accidents, and this often lead to injuries and death. A quarter of these accidents involved machinery, and most working environments continuously use these and so; it's crucial to check them for safety purposes routinely. One of the easiest ways to accomplish this is through the use of testers that would demonstrate if the equipment is functioning properly or not.
Tip 2: Practice Awareness of Safety Procedures
Safety procedures and warnings are only useful if everyone is following them and sticking to the rules. Likewise, during emergency situations, it's very crucial that those who are tasked to undertake the precautionary measures would know what to do. This can be achieved through employee education and awareness– they are essential in keeping the health and safety protocols of the company. Additionally, training courses and practicing emergency procedures can be quite helpful in taking a pro-active approach not only to safety but the health of the workers as well.
Tip 3: Adhere to the Rules and Regulations Regarding Construction Safety
There are specific rules and regulations about health, safety, and welfare within the workplace. As a construction manager, you should be aware that these are often being modified and altered– especially with the recent innovations in technology. These regulations will become increasingly important as autonomous cars impact communication and Internet marketing services, too.
For that reason, it's your job to make sure that the workforce would be in line with the latest regulations, no matter how small these may be. This can quickly be done by having a procedure in place that would check if there are changes that are ideal for the construction project.
Tip 4: The Use of Occupational Health and Safety Management Systems
Having a system that would let you consider and prepare all health and safety risks, as well as the issues that may arise in the construction site is a great way to keep everyone safe. The use of IoT technology makes this possible, and there are some devices and equipment that can be used to ensure that the occupational health and safety management rules are followed.
Tip 5: Be a Good Example
A construction manager should set an example in a sense that he should be the first one to follow all the rules and regulations of the construction site. That means wearing smart PPE wearables at all times and using the heavy machinery and equipment correctly.
Tip 6: Monitor, Evaluate, and Adjust
As work progresses, you'd have to prepare yourself in knowing that conditions can change drastically from one day to the next– it's essential to have the smart traffic cones ready as you wouldn't know when they are going to be needed. You have to understand how these changes could contribute to safety hazards. Continuous improvements to safety measures are essential and should be based on the most up-to-date information on job site conditions.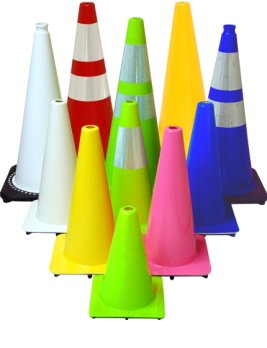 Final Words
The truth is, not everyone would be interested in workplace safety, and you cannot expect the workers to know the proactive measures right away. As a construction manager, it's your responsibility to teach them these rules and ensure that they are being followed at all times. By doing so, you'll be able to prevent serious workplace injuries and accidents from occurring.